Exalted Kevin Weis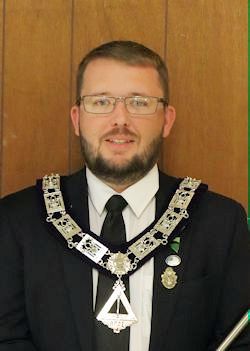 Welcome to the web site of Henderson/Green Valley Elks Lodge No. 2802. I hope you find it to be both interesting and informative. The Benevolent and Protective order of Elks was founded in 1868 on the principles of Charity, Justice, Brotherly Love and Fidelity. These Principles have guided our Order since its inception and continue to point the way to our future success.
We apply these values to our everyday life by engaging in charitable activities, by raising and distributing funds and by volunteering thousands of hours per year to many worthwhile causes in the local community, the State of Nevada and the nation. The Benevolent and Protective Order of Elks has been an agent of change and community service since its founding. Many of today's well known institutions have had their genesis with the Elks. Flag Day, for instance, was created by the Elks in 1907 and was signed into law in 1949 by President Harry S. Truman, himself an Elk. Five U.S. Presidents have been members of the Order. They are: Warren G. Harding, Franklin D. Roosevelt, Harry S. Truman, John F. Kennedy and Gerald R. Ford. Many other Senators and Congressmen have been counted among our ranks such as House Speakers Tip O'Neill, Sam Rayburn and others.
The members of this lodge are proud of our heritage and our commitment to the community. We invite likeminded individuals to join us in carrying out our charitable works. To qualify you must be an American citizen and you must believe in God. Although we are a private organization, we'll be glad to inform the general public of our charitable programs and our values. Perhaps you'll find yourself wanting to join us and help give something back to the community. We invite you to come by the lodge and see for yourself what we have to offer. Lodge hours are 1:00 pm - 9:00 pm Tuesday through Friday and closed Saturday, Sunday and Monday. A map to our location can be found on the "Contact Us" link.
Please browse our site, give us your feedback and be sure to sign our Guest Book!
Our history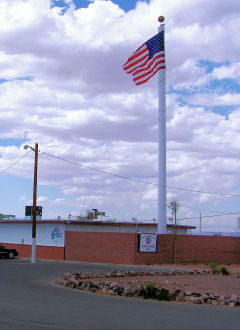 The original building that houses the Lodge was built sometime in the early 1940's as part of the multiunit Carver Park complex. The building was added onto several times over the next 20 years.
The Carver Park complex had 64 units for single workers, 104 one-bedroom units, 104 two-bedroom units and 52 three-bedroom apartments. The development also included a school and recreation hall. The building complex was originally used to house black employees from BMI. Carver Park later housed black airmen from Nellis Air Force Base.
The building and approximately 1.8 acres was donated to the old Henderson Elks Lodge No. 1956 in the late 1950's. In 1995 Grand Lodge lifted the Charter of Henderson Lodge #1956 after a group of members calling themselves "Elks Helping People, Inc.", incorporated 17 May 1994, took control of the property by illegal means. The property was regained late 1996 early 1997 by Grand Lodge. The newly Chartered Henderson/Green Valley Lodge #2802 acquired the property for $15,000 plus in 1997 and has continued to occupy the facility ever since.
Nearly half a century ago during a visit to Southern Nevada, President John F. Kennedy predicted that the then fledgling City of Henderson was a "city of destiny." Little could he have known just how accurate a prediction he was making.
The city of Henderson was settled in 1929 when it was known as Jerico Heights, which was also known as Pitman. Neighboring Basic Township was later settled in 1941 with the annexations all being post war additions.
Pitman settlement was the result of Boulder Dam construction. It was also known as Midway City. The tents and temporary buildings ruled the land until the construction was completed, leaving Pitman in a declining state. The Basic Magnesium Plant was later built as a result of World War II brought life back to the town. It was then granted a post office and its name changed to Midway City. The city was officially named Henderson in 1943 after the late Senator Charles B. Henderson as the construction of the magnesium plant completed.
Carver Park, was a segregated section of Henderson, opening east of Boulder Highway on the north side of Lake Mead Drive in October 1943. The 324-unit project was designed to house BMI's black employees. It is one of these buildings, donated by BMI to the Henderson Lodge No. 1956, that Henderson/Green Valley Lodge No. 2802 presently occupies.
The city of Henderson was officially incorporated on April 16, 1953, playing an important role in the organization of the Henderson Lodge No. 1956.